A R T I S T S :
Gang Gang Dance.(live).
Prinzhorn Dance School.(live).+.Suzi Horn.(DJ).LOST.presents.Andrea Parker.+.Colin Dale.+.Steve Bicknell COCADISCO.presents.Trevor Jackson.+.DJ Benetti.+.Rodaidh and Piers Martin.+.Team Mega Mix.+.Heartbreak.(live) NUKE THEM ALL!.with.Buster Bennett.+.Fonteyn.+.Alex Sedano.(VJ).+.The Fresh Flesh 'Interconnected Echoes - After Hours Salon'.with.Matthew Stone (!WOWOW!).+.Princess Julia (P.I.X).+.more


N I G H T C L U B
curated by Jen Wu, ICA Exhibitions
Saturday 28 June, 2008
9pm to 4am across the entire ground floor of the ICA (Lower Gallery, Cinema, Bar, Theatre, Concourse)
£12 - SOLD OUT

INFO: http://www.ica.org.uk/nightclub
ICA BLOG & GALLERY: http://www.ica.org.uk/Nightclub+17319.twl http://www.ica.org.uk/Nightclub20gallery+17316.twl
MORE PICS: http://www.dirtydirtydancing.com/default.aspx?album=ICA%20Clubnight%20-28th%20June
TimeOut feature: http://www.timeout.com/london/clubs/events/765364/nightclub.html

By special arrangement the ICA will be open until 4am. Live acts from 11pm. Dress code: come as you are, don't hold back.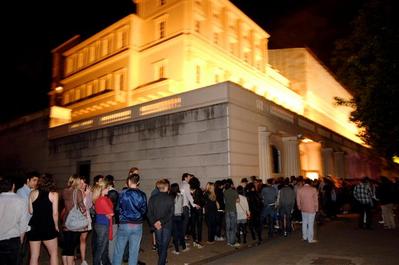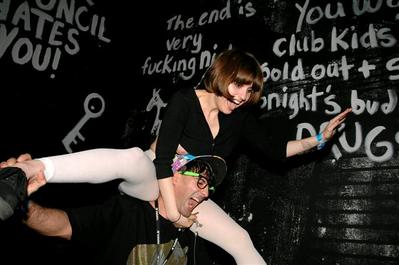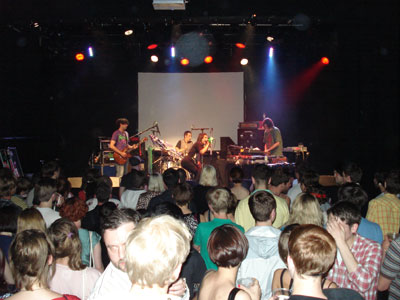 Re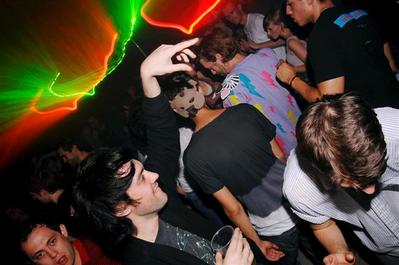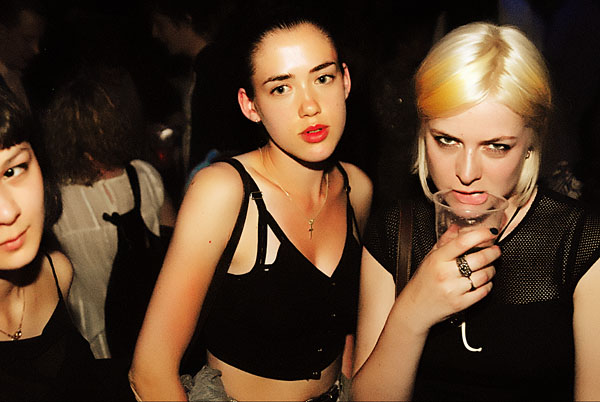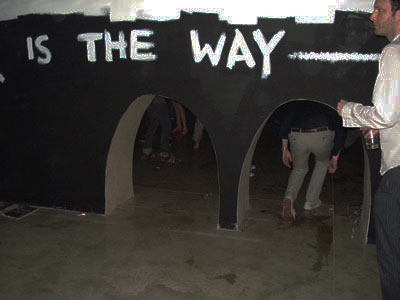 Photos by: top left, middle: Davide Bozzetti, right: Anthony Gross; bottom left: Davide Bozzetti, middle: Alistair Allan www.dirtydirtydancing.com, right: Anthony Gross
Transforming the entire ground floor of the ICA, Nightclub invokes the spirit of club and rave subculture for an all-night freefall marathon. As the new millennium pushes forward and an inward tribalism takes hold, Nightclub revels in a collective release. In a moment of spectral hallucination, reflection, and immersion, Nightclub pushes the boundaries of the contemporary art experience as simultaneous scenes collide, escaping normal forms of identity through trance, battles, illicit encounters, unstable visions and music.
Featuring a special live performance by Brooklyn tribal-futurist noise quartet Gang Gang Dance. Stunningly beautiful, splintering, beat-driven electro-acoustic chaos, their music has been described as 'a close relative of religion'. Straddling the art-music hybrid, their explosive sonic and visual array forges territories so invigorating and liberating it feels like protest. Gang Gang Dance were included in the Whitney Biennale 2008. Opening for Gang Gang Dance will be the elusive and reclusive Prinzhorn Dance School (DFA Records). Taking their name from a German psychiatrist and author of 'Artistry of the Mentally Ill' their nervy, provocatively spare music has elicited comparison to The Fall with its seething, taut intensity – 'manic flashes from a conflicted brain that keep the line between the perceptive and the unhinged obscure'.
Alighting in the lower gallery, the 'unbridled hedonism' of Fonteyn and Buster Bennett's Nuke Them All! sets ablaze the neon post-rave apocalypse. Formerly sited in an East End strip club, their renegade attitude of bring-your-own and be-your-own art has unleashed nights of spontaneous mayhem.
The retro-futuristic Mediterranean sounds of London club night Cocadisco washes over with blissed-out electro waves, combining cinematic soundscapes, electro funk and classic Italo disco courtesy of Renaissance man and renowned DJ and producer Trevor Jackson, Rimini hotmix legend DJ Benetti, resident DJs Rodaidh & Piers Martin, and DJ duo Team Mega Mix. Dark disco hybrid Heartbreak perform a special live set hot on the heels of their Glastonbury debut. 'It will make you dance with tears in your eyes… like bi-polar maniacs in the brink of an ecstatic panic attack'.
In the cinema, artist Matthew Stone (!WOWOW!) and friends host 'Interconnected Echoes – An After Hours Salon'. An extension of a larger project and archive in which Matthew asks the people he admires some of the big questions in life, this open intervention features Princess Julia and other pivotal figures from London's art and club worlds discussing everything from love, faith and changing the world to nightclubs as incubator for radical ideas.
Transporting us into a glorious hard-hitting techno afterlife will be Steve Bicknell, resident DJ and main curator of the legendary Lost events. The first to bring luminaries such as Jeff Mills, Richie Hawtin, and Robert Hood to the UK, Steve's unwavering commitment to quality and innovation has shaped a scene in London and worldwide, with his own appearances ranging from the groundbreaking Energy parties to Tresor, Ostgut, The Rex, Sonar, and Tribal Gathering to name but a few. Alongside Steve, Lost presents longtime collaborators Andrea Parker and Colin Dale. From early days warming up for Tim Westwood at Gossips, Colin Dale soon became a household name as DJ for pirate station Kiss FM's pioneering 'Abstrakt Dance' show which over 16 years no less than brought techno to the masses. With a reputation for seriously sinister basslines, Andrea Parker's dark universe has been called the missing link between techno and experimental music. Her extensive history as a DJ and producer spans releases on R&S, Mo' Wax, Quatermass and her own label Touchin Bass.
Further visual and sound analysis comes from Say Fromage plus the ICA's very own The Experiment, with a sound installation 'Conservational Reverb Convenience' by sound artist and co-producer of The Experiment Kevin Quigley: experience some 'Warhol-ique' dialogues in the ICA's toilets(!) Also at various sites the unique interactive slide projections of William Parker aka World of Parker will be in effect.
Nightclub is conceived by Jen Wu on behalf of ICA Exhibitions, and developed in collaboration with Jamie Eastman, ICA Music. With thanks to Piers Martin.