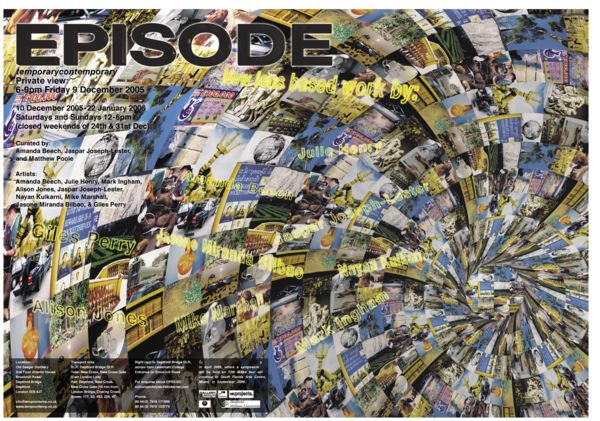 10 December 2005 - 22 January 2006
Open Saturdays and Sundays, 12-6pm. Closed weekends of 24th and 31st December.
Private view: Friday 9th December 2005. 6.30pm-10pm

New lens based work by: Amanda Beech - Julie Henry - Mark Ingham - Alison Jones - Jaspar Joseph-Lester - Nayan Kulkarni - Mike Marshall - Jasone Miranda Bilbao - Giles Perry

Curated by: Amanda Beech - Jaspar Joseph-Lester - Matthew Poole
temporarycontemporary is pleased to be hosting EPISODE, an exhibition of new lens-based work by nine London-based artists from 10th December 2005 – 22nd January 2006.
"Episodes" are displaced moments - slices of narrative – sequences and instances that are isolated from, stand apart from, and are de-contextualized from a coherent whole. But "episodes" reach out to the universal – something outside. They call upon a totalized narrative without evidencing its existence - a piece of the real. And knowing that "episodes" are singular, self-contained and fabricated inventions does not prevent us from being enthralled, immersed and moved by the power of such fictions.

Through the exhibition we explore the pleasure, power and sensory extravagance of this fiction/fact relationship. Rather than identify truth as being behind or beyond images, we analyse the politics of belief in images.

The selected artworks include video projections, monitor-based works, lens-assisted painting, and photographs, all of which subject the audience to the pleasures of disorientation of sensory, immersive and rhetorical devices. They produce intense visual and aural experiences, whilst openly exposing themselves as fabricated constructs. They carry you away, shift you around, confuse you and demand your collusion. To this end, the exhibition will be set within a simple but dynamic installation of floating white laminated screens that will encourage and guide as well as inhibit the audiences' movement around the gallery space.

EPISODE will tour to Leeds Metropolitan Gallery in April 2006, where a symposium will be held on 12th May. The tour will continue to South Florida Arts Centre, Miami, in July 2006.
For more information please contact the gallery via e-mail: info@tempcontemp.co.uk.
EPISODE is generously supported by Sheffield Hallam University, Portsmouth University, NK Projects, and The Spanish Embassy London.