Abigail Lane & Showroom Dummies • Gavin Turk • Sarah Lucas & Olivier Garbay • Art Lab • Bob and Roberta Smith • Boudicca • Cell Projects • Ian Dawson • Richard Clegg • Fashion East • Sarah Baker • Henry Krokatsis • Karma Kabs & Guests • Reza Aramesh • Mark and Michelle Hampson • Lucia Helenka • The Whoopee Club • Sophy Ricketts • Carter Presents • Richard Dyer • Spaced Out • Zoe Griffiths • Kathy Battista • Pam Hogg • Joshua Knowles • James Cooper • Cedric Christie • 1000000mph • Jamie Lau • Sheena Macrae and Matt Franks • Keith Talent • Hadrian Pigott • Phil Dirtbox • Swedish Blonde • David Batchelor • Abigail Fallis • Omni • Martin Westwood and Linda Persson • temporarycontemporary • Truck Art • Alexander de Cadenet • Charlie Murphy • Jason Massot • Yoko Brown • Spamshirt • Levack. • Plus! King Street Rocks: Salon Saloon featuring Jessica Voorsanger • Simon Bill • Jane Simpson • Fiona Curran • Mochikolinski • Wayne Smith • Romance Romance and Andrea Mason. Plus! Special Guest Sheikh Yerbooti. Plus! The Fridge Show, featuring Marcus Harvey • Chantal Joffe • Mark Titchner • Patricia Ellis and Richard Woods.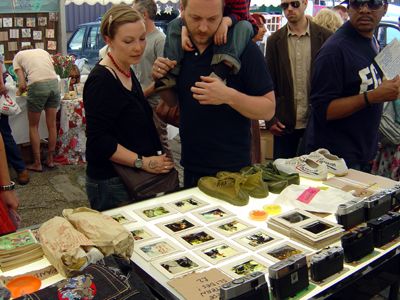 The Art Car Boot Fair is back by popular demand and gearing up to be another classic day of art and frivolity in the spirit of the great summer art events. Supported by Vauxhall Motors and produced by Karen Ashton and Helen Hayward, the 2006 event will feature over 45 pitches, special on-car and in-car art commissions, live DJ's, performance, films, organic barbecue, a paella party, chilled drinks and a multitude of art wares spilling out of car boots. It's the 2006 Summer art event not to be missed.
.... temporarycontemporary presents 'STUFF FROM CHINA' collected during their recent excursions. Scouring fleamarkets, street fairs and corner kiosks, they have brought back a selection of goodies including educational lantern slides, Beijing 1980s mini comic books, Chinese army plimsoles... mixed in with some artwork and catalogues. oh yes and a large amount of vintage cameras including Olympus Trips and Kodak instamatics from the 70's...